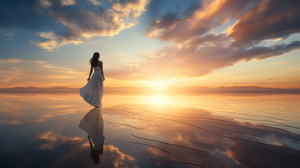 Discover the Soul Secrets Blocking Your Success
Unlock the Synergy of Soul Realignment® and Actionable Business Strategies.
The Edel O'Hanlon Method
My coaching is a unique fusion of traditional wisdom and spiritual transcendence. I utilise time-tested coaching methods, grounding your journey in practical, actionable strategies. But I go further. With Advanced Soul Realignment® techniques, I delve into your Akashic Records, uncovering your soul's true essence and purpose. Along with any potential blocks or restrictions.
This holistic approach provides a clear roadmap to transformation. As we work together, I will ensure you align with your true self, manifesting desires in harmony with your soul.
Benefits of Soul Realignment®
See Yourself Clearly: Understand who you truly are at a soul level. And sometimes more importantly, who you are not.
Actionable Guidance: Receive an actionable roadmap to align with your soul gifts and purpose. Applicable to all areas of life, including work, finances, relationships, health etc.
Empowerment: With newfound clarity and guidance, confidently make choices that boost abundance and momentum in every action. It's not just about the steps you take, but the intention and understanding behind them.
Energetic Clearance: Begin anew with a cleared energy slate, as I perform an energetic clearance of all blocks and restrictions that are preventing you from achieving your goals.
Frequently Asked Questions
Soul Realignment® is a spiritual healing modality that focuses on accessing the Akashic Records to discover your soul's true essence, potential blocks, and past-life issues. By understanding and addressing these factors, individuals can make choices that are more aligned with their soul's true purpose, leading to a more fulfilling life.
The Akashic Records are often described as a "cosmic database" or "universal library" that holds information about every soul's journey across all its lifetimes. They encompass every thought, event, and emotion that has ever occurred, offering deep insights into one's soul purpose and life lessons.
Reading the Akashic Records provides clarity about your soul's unique gifts, lessons, and purpose in this lifetime. By understanding these aspects, you can make choices that align more closely with your true self, fostering growth, fulfillment, and harmony in various areas of life.
While there are overlaps, particularly in the pursuit of personal growth and betterment, Soul Realignment® is distinct in its deep spiritual approach. Traditional life coaching often focuses on current-life issues, goals, and strategies, whereas Soul Realignment® digs deeper, addressing soul-level concerns and past-life influences.
Absolutely! One of the core aspects of our work together is ensuring that the profound insights from the Akashic Records are translated into actionable steps and strategies that you can apply in your daily life. This allows you to move forward with clarity and purpose.
While no specific preparation is mandatory, it's beneficial to approach the session with an open mind and heart. Reflecting on areas of your life where you seek clarity or change can also be useful. The more receptive and introspective you are, the richer the experience will be.
Yes, accessing the Akashic Records is safe. It's a spiritual process that connects with the higher realms of consciousness. All information retrieved is meant for guidance, healing, and growth. Any negative or lower energies are cleared during the process, ensuring a positive and enlightening experience.
Are you ready for a profound transformation? Tired of the perpetual cycle of challenges? Embark on this transformative journey with me—today, right now!
About Edel
My name is Edel O'Hanlon, and I've been shining my light within the wellness industry since 2005. With 14 years under my belt as a Registered General Nurse, I discovered my true calling with Advanced Soul Realignment®. This transformative modality has not only enriched my personal journey but has also empowered me to guide numerous individuals towards authentic alignment and fulfillment.
★★★★★

Working with Edel was a game-changer for me. I was struggling with a horrendous work-life balance. Edel offered me really practical solutions and the tools needed to establish balance. Then when Soul Realignment was included what can I say, that is the secret sauce, that's when the magic happened! ... If you're thinking about working with Edel don't hesitate, take the first step and just see where it takes you

Entrepreneur also working in corporate
★★★★★

I instinctively knew I wanted to change but felt like I was walking through mud attempting anything. The work I completed with Edel, was exactly what I needed. She guided me through each step I needed skilfully and in a way that empowered me to trust my inner knowing.

I am well on my way to creating the work life I aspired to achieve. I'm totally in flow and loving it. I highly recommend investing in yourself and working with Edel. It will return to you tenfold

Sinead Flanagan

DIY Wellness
★★★★★

A Journey of Spiritual Clarity "Working with Edel opened doors I didn't even know existed. I was seeking direction, clarity, and a renewed sense of purpose. The conventional coaching methodologies were a strong start, but it was the deep dive into Soul Realignment® that truly illuminated my path. The insights from the Akashic Records were a revelation, and Edel's guidance in interpreting and applying them was invaluable. If you're on the fence, don't be – the clarity and direction I've gained have been transformative.

Aoife O'Sullivan
★★★★★

From Stagnation to Elevation" My journey before Edel felt like I was running on a treadmill – lots of effort, but no forward momentum. Edel's approach, combining grounded strategies with spiritual insights, gave me the tools and understanding I needed to step off that treadmill and soar. The combination of practical coaching with Soul Realignment® was transformative. I now move through life with confidence, purpose, and a profound sense of alignment."

Sinead Murphy
★★★★★

Alignment and Abundance "I've always been a seeker, looking for ways to align my actions with my soul's purpose. Edel's unique approach was the key I'd been searching for. Through our sessions, I gained a deeper understanding of my soul's desires, coupled with actionable strategies to manifest abundance in all areas of my life. The knowledge and tools she shared were priceless. To anyone considering this journey, Edel's expertise is the guiding light you need."

Siobhan Gallagher
The Power of Transformation
Have you ever felt stuck, as though despite all your efforts, you're merely treading water? Sometimes, the root cause is deeper than we realize. Our souls can experience misalignments or encounter blocks and restrictions from our past lives. Through Soul Realignment®, we can illuminate and address these underlying issues, paving the way for you to make choices and take actions that resonate with your true self. With this new alignment, the results you desire are within reach.
Tailored Services for Your Unique Journey
Everyone's path to alignment and fulfillment is unique. That's why I offer a variety of tailored services to meet your individual needs. Whether you're interested in one-on-one sessions, immersive VIP days, or longer-term programs spanning 3 to 6 months, I'm here to support your journey. As an Advanced Soul Realignment® Practitioner, my offerings include Manifesting Blueprints and Soul Realignment® readings for both individuals and businesses. All of my services are designed to empower you to embrace the freedom and self-expression that come with a harmonious business and life
The Cost of Standing Still
Choosing not to act can often mean remaining in a cycle of stagnation. The challenges you face, whether in money, career, relationships, or health, might persist or even intensify. More than just external problems, this can lead to internal turmoil, manifesting as anxiety and feelings of diminished self-worth. All of this can arise from a lack of clarity about your true soul identity. But remember: recognizing the need for change is the first step towards transformation.
Are you standing at the threshold of profound transformation? If you're eager to break free from the relentless cycle of challenges and step into your soul's true potential, now is the moment. Let's embark on this transformative journey together. The next chapter of your life awaits.